Surrounded by green, only 5 minutes from Bardolino.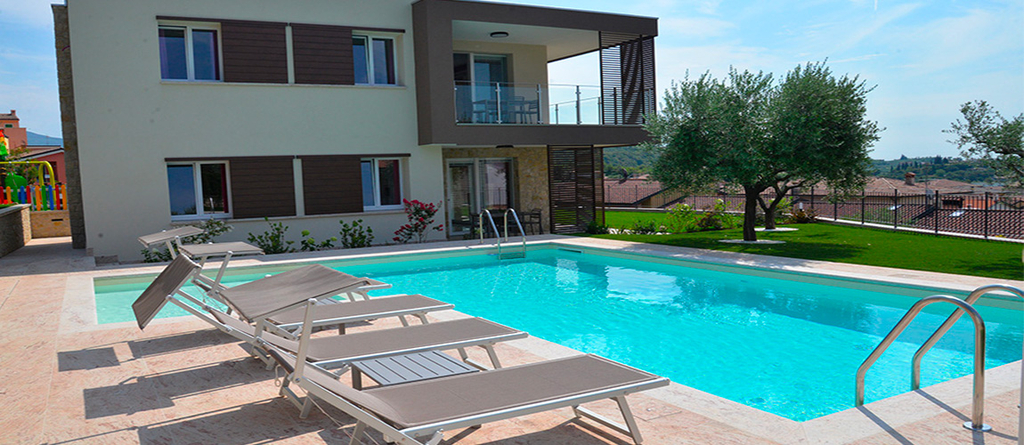 Four apartments are available in the Residence Alys&Kate, which is situated right in the centre of Cavaion Veronese (Verona). A supermarket, a pharmacy and several restaurants and bars are within walking distance.
The residential area has 4 new built apartments, a beautiful swimming pool, a separate playground for children and a large private garage. Surrounded by green, you can relax under an olive tree in the well-kept garden, read a good book or sunbathe near the swimming pool or on the private terrace of your apartment. Enjoy your holidays at leisure or take a bike trip to the nearby village Bardolino on Lake Garda (8 km) or ride through the Valpolicella valley, where you can taste local dishes and famous wines of the surrounding vineyards, such as Recioto and Amarone.


Do you feel like booking your stay in the apartments Alys & Kate in Cavaion and spend some relaxing days strolling along, having fun and doing sports? Check our apartments before you book your stay … we are looking forward to meeting you!
Choose your apartment in Cavaion Veronese!
Cavaion Veronese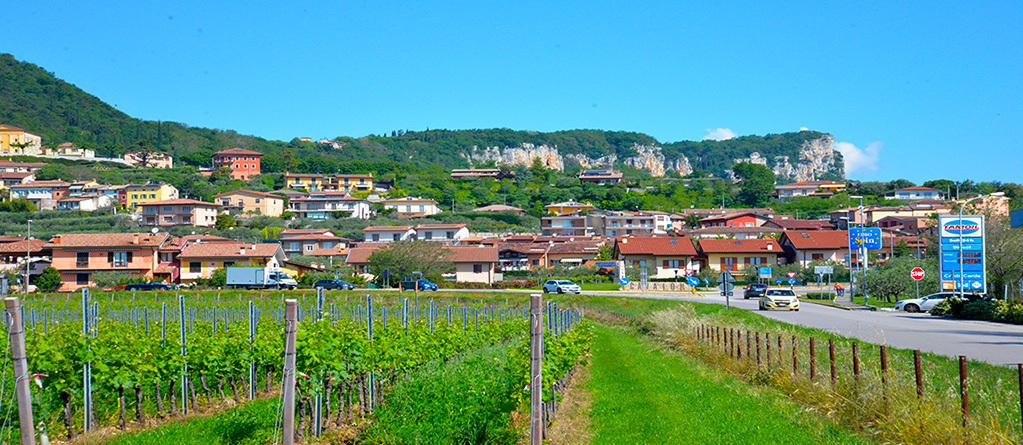 Mile-long bike trails will take you from Cavaion in all directions and you can easily reach trekking trails on foot or by car. Hike up hill and mountain tops to enjoy the breath taking view. The countryside offers a lot of biking trails for mountain bikers, but if cycling is too boring for you, then try climbing, canyoning or flying.
Verona is only 25 km away, a beautiful city of art with plenty of history, some amazing operas, that are performed in the Arena or interesting theatrical performances in the ancient Roman Theatre.

Alys & Kate Residence
Via Cavalline 46, Comune di Cavaion Veronese (VR), 37010
How to reach us
BY PLANE: in proximity airport of Verona (ca. 20 km) and airport of Bergamo (ca. 80 km) .
Contact us, we'll provide you any information about bus service and local transport facilities.
BY TRAIN: in proximity train station Verona Porta and Peschiera del Garda.
Bus service to Bardolino throughout the year.
Contact us, we'll be pleased to help you plan your transfer and give you any information about the bus connections and departure times. If you want to learn more about other transport facilities or how to arrive to your residence, we'll be glad to provide information.
BRENNER MOTORWAY A22 : take the exit Affi, then follow the signs toward CAVAION / BARDOLINO; arriving in Cavaion Veronese, pass through the first roundabout and go straight ahead, before the street narrows, turn right into the street via Cavalline, at the stop sign turn left, after 50 m take the second street on your right immediately after the red house with a stone wall.
MOTORWAY A4 MILAN - VENICE: take the exit Peschiera del Garda, then drive along the expressway toward Affi and exit the second last drive Cavaion Veronese, where you have to turn left, then follow the signs toward Cavaion, when you reach the village, follow via Pozzo dell'amore until you reach the crossing, after the supermarket Tonoli turn left into via Fracastoro. Turn immediately right into the street via Cavalline, after 50 m, take the first street on your left before the red house with the stone wall, at the street entrance you'll find the residence garage on the right side.